Tracks;
Disguises
Run, Run, Run
Dr Jekyll & Mr. Hyde
I can't reach you
Our love was, is
Call me lightning
Magic Bus
Someone's Coming
Doctor, Doctor
Bucket T
Pictures of Lily
Number: DL 75064 (stereo) DL 5064 (mono)
Label: Decca
Released: 1968
A very quirky compilation, it was often mistaken for a live album, being titiled, 'The Who on tour'. Not much to talk about, here, some good singles and various songs from sell out and happy jack
Meaty, Beaty, Big and bouncy
Tracks:
I Can't Explain
The Kids are alright
Happy Jack
I can see for miles
My Generation
The seeker
Anyway, Anyhow, Anywhere
Pinball Wizard
A legal matter
Boris the Spider
Magic Bus
Substitute
I'm a boy
Number: DL 79184
Label: Decca
Released: 1971
A nice compilation put together by pete, this album boasts some of their best singles of the 60s era, inlcuding 'the seeker', 'anyway, anyhow, anywhere' and the long version of Magic Bus. Makes a perfect album for someone new to the who.
Odds and Sods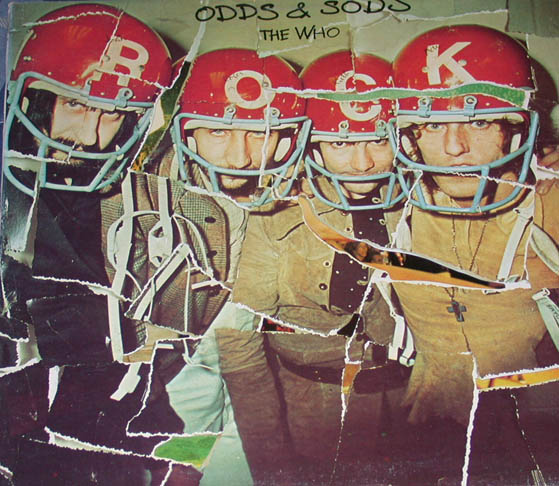 Tracks:
Postcard
Now I'm a farmer
Put the money down
Little Billy
Too much of anything
Glow girl
Pure and easy
Faith in something bigger
I'm the face
Naked Eye
Long live rock
Number: MCA 2126
Label: Track/Mca
Released: 1974
Came with a poster and an explanation of each track by pete.
A very nice compilation made by John, who searched though all the tape boxes at track records. Postcard was destined for an EP that the who were to make. Has actual sounds recorded in the various countries where the who have toured. Now I'm a farmer was also destined to be for the ep, and deals with life on a farm...Little Billy was a song written for the cancer society against smoking. Sadly, it was never released. Too much of anything was salvaged from LIFEHOUSE (who's next project), as well as Pure and easy.
I'm the face was the who's first single, written by Peter meaden, when they performed as the high numbers. Naked eye was for the ep and also appears live on live at the isle of wight. Long live rock was featured in a movie called 'That'll be the day' and was the beginnings of quadrophenia.