Tracks:
Interview with Pete
Don't let go the coat
Daily Records
You better you bet
Interview with Pete
How can you do it alone
Interview with John
The Quiet one
Another tricky day
Interview with Roger Daltrey and Kenny Jones
Did you steal my money
You
Cache Cache
Numbr: Pro-A-944
Label: Warner Bros
Released: 1981
Compilation of interviews: Trevor Dan
Cover: (Paint by numbers!) Vincent van Rental
This is a promtion only record for the Face Dances. It came with a cue sheet with all the questions asked. There is also another issue of this album with a simple red cover. An interesting interview from Pete, John, Kenny and especially Roger, the album provides some good insight behind the 'Face Dances' tracks.
The following appears on the back;
Dear Station, This is your do it yourself interview with the Who. All you have to add is a DJ and Ids. The interwiew sheet and questions are enclosed, Have fun!
Talking about Quadrophenia (Quadrophenia radio show)
Track list:
Roger and Pete Talk
I'm One
RD and PT talk
Bell Boy
Rd and Pt talk
Dr. Jimmy
RD and PT talk
Love Reign o'er me
RD talks
PT talks
RD and Pt talk
Pt talks
RD talks
RD talks
Quick Quotes
5:15
Number: PRO 114
Label: Polydor
Released: 1979
This special promo "talks about the original soundtrack album and the forthcoming film" Produced by Fred robbins. A robbin's nest production. On some labels (pictured below), the word 'disc jockey' is spelled 'disco jockey'! Some good comments by Roger about the Sex Pistols, Keith Moon's Death, as well as some comments by Pete on the Quadrophenia Movie and soundtrack album.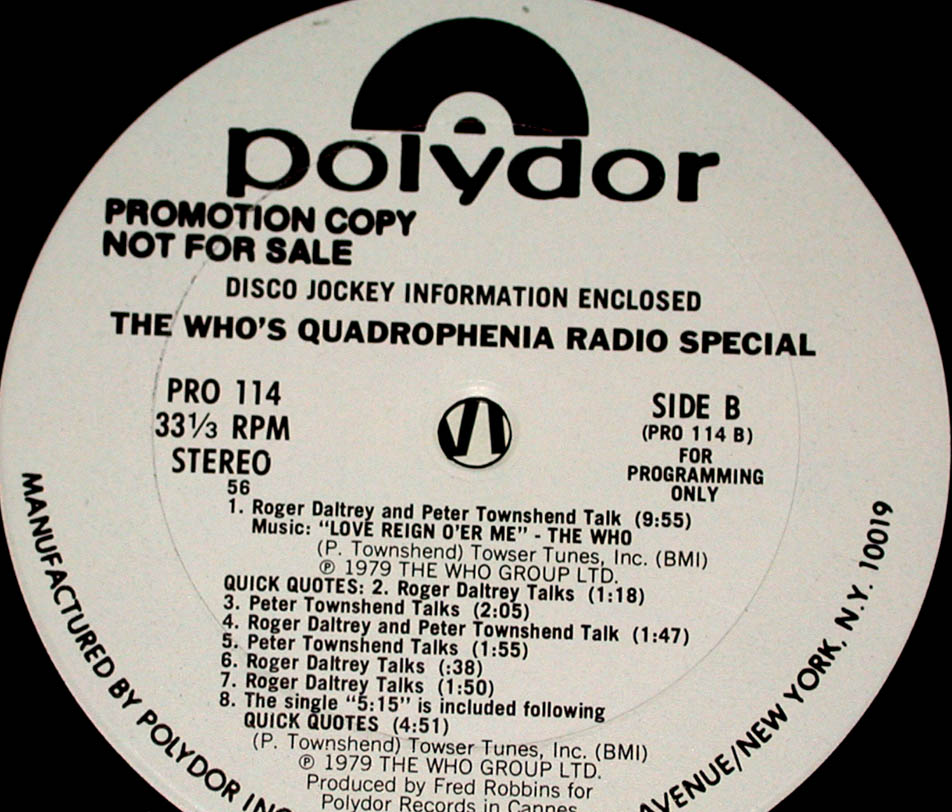 The mispelled label (only on b-side)
Innerview Part 1 (Headphone Experience)
Tracks:
Baba O' Riley
Pure and Easy - parts of
My Generation
~motorbike ad
~stereo ad
Drowned ( in background -parts)
How many friends - parts
Squeeze box
~motorbike ad (sad version)
~stereo ad (same as above)
Extra, Extra
Tommy can you hear me? (movie version)
Smash the mirror (movie version)
Sensation
Pinball wizard
~motorbike ad (country version)
Won't Get fooled again
aknowledgements
Finale (song is over clip)
Released: 1976
Number: N/A
Label: Sound Communications
This interview with roger daltrey, interviewer Jim Ladd, deals with all sorts of subjects, the tommy movie, rock awards and much more. Lots of WHO songs are presented, which fade in and out into the interview. A really good promo, this is Jim's show #14. Apparently, there is a part 2 to this interview I have yet to procure. Innerview was a radio series that ran for twelve years, starring many guests.