What's it all About? show # 383/#384
The Who/ ELO (electrc light orchestra)
Number: MA 1090
show: #383/384
released: 1977 Promo Only
This is one of many who-related interview promos made for the Prebyterian Church Radio. Hosted by Bill Huie, this 5 minute segment includes interview clips with Pete and Roger, both of which deal with the creation of tommy. A good interview interspersed with Squeeze Box, Pinball Wizard and See Me, Feel Me. At the end, Bill ties all that the who have said into a religous blurb!
other 'what's it all about?' promo 7" (I don't have them yet!)
Whats It All About? Who/Bowie - 242
Whats It All About? Tommy/Pointer Sisters 274
Whats It All About? Tommy Part II/Anne Murray 281
Whats It All About? Who/Captain & Tennille 308
Whats It All About? Townshend/brown 517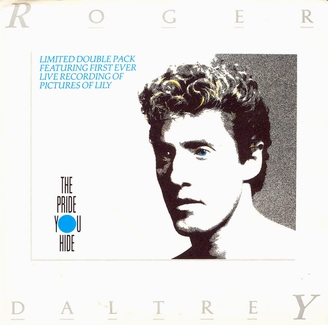 Roger Daltrey- The Pride You Hide 2x 7"
Tracks:
The Pride You Hide
Breakout
Don't Talk to Strangers (live)
Pictures of Lily (live)
Number: Tend 103
Released: 1986
Label 10 Records
This Roger solo double pack claims on the front to have the very first live recording of 'Pictures of Lily,' which is true- except that it's the first recording of Roger's solo band performing it! Despite this, this very limited double pack is worth your money. While the tracks are good they do display the common problem of 80's over-production, even the live ones. 'Pictures of Lily' live is excellent, but poorly mastered, as it the other live track.They were both recorded somewhere in the USA December 1985. This was also made available as a 12", without 'Pictures of Lily.'
The live band consists of:
Russ Ballard- guitar and backing vocals
Clem Clemson- guitar
Stuart Elliot- drums
Alan Shacklock- keyboards
John Siegler- bass
Mark Williamson- backing vocals
Bobby Pridden- Feedback
The Who- Won't Get Fooled Again 12"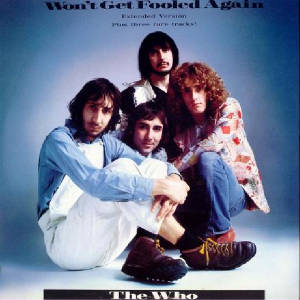 Tracks:
Won't Get Fooled Again
Boney Maronie (live)
Dancing in the Street (live)
Mary-Anne with the Shaky Hand (mono single b-side)
Number: 151.285
Label: Jaws Records/Polydor (at least on the Dutch Pressing)
Released: 1988
This is an extremely rare 12" (45 rpm) record that came out as sort of a 'promo pre-release' to the 'Who's Better, Who's Best' LP. There was a CD single including all tracks and a 7", including 'Boney Maronie' and WGFA (single version) released at the same time. The version of WGFA isn't of much interest, except maybe some good bass because of the format. The other tracks, however, are a different story. 'Boney Maronie' was recorded live at the Young Vic on the 26th of April, 1971 (see
Who's Next and related
for the rest of that show) and this is the only place to get this classic live track on vinyl. The Maximum R'n'B box set has a slightly different mix of this. 'Dancing in the Street' along with a bit from 'Dance to Keep from Crying' at the end is a fairly good live number recorded live in Philadelphia on the 13th of December, 1979. This would be an excellent version had there not been a horn and cheesy organ section performing along with the band. This 12" is the only place to get this track as well. Lastly, we have an incredible version of 'Mary-Anne with the Shaky Hand' which is incorrectly listed as being recorded live in NY, 1967. It is, in fact, a mono mix of the b-side to 'I Can See for Miles.' A stereo mix of this track can be found on
Who's Missing
. The mono mix, however is far superior- it's quite a raw, pounding song here.
Either way quite a good 12" if you can find it.
Other items of interest:
7" Substitute (edited)/ Waltz for a Pig USA Atco
12 x 7" The Singles Box Set- includes 'Real Good Looking Boy' and 'Old Red Wine' the new Who tracks!
Sound of the Stars Lynn interview disc (w/ interview of Pete)